Mon 21 Mar 2022 09:30-15:30
Online Workshop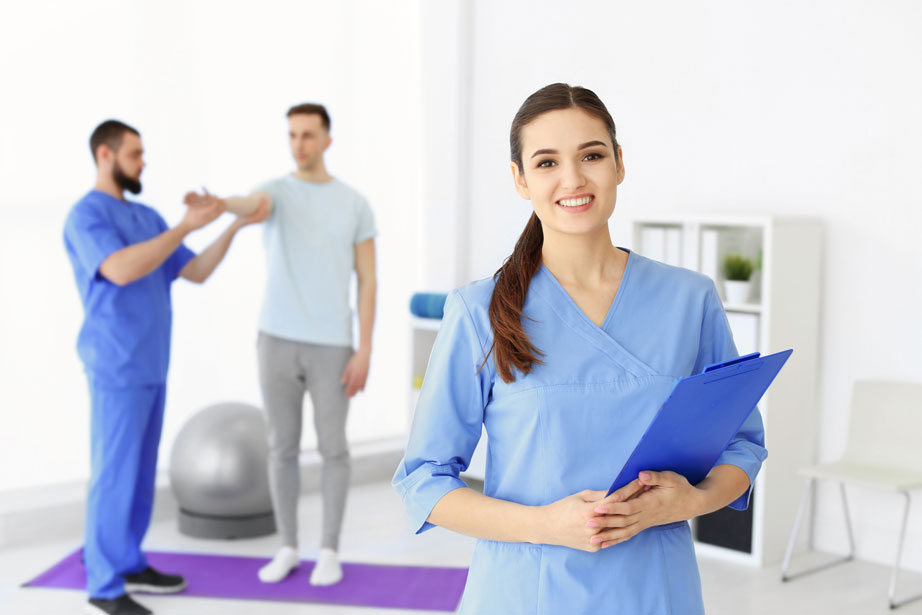 5 hours Continuing Professional Development: what you will learn
Attend this study day to develop a funding strategy, allowing you to enhance your patients' experience of care from ICU to hospital discharge and beyond. This workshop will explore:
Applying the latest national policy developments
Lessons learnt from first-hand experiences
Recognising the scope and breadth of therapy rehabilitation
Delivering effective and successful rehabilitation on ICU
Improving management of Post Intensive Care Syndrome (PICS)
Tackling the challenges on achieving a fully funded post-ICU service
Developing follow up pathways after hospital discharge
Exploring patients' rehab journeys beyond hospital discharge
Attend this online NHS workshop from the comfort of your own home
Take away new ideas to develop your business case and benefit from:
Evidenced based examples and best practice: providing patient-centred rehabilitation support throughout their recovery journey
Interactive presentations: your challenges address with practical solutions
Closed room discussions: benchmark and engage with your fellow attendees
Agreed action plan: leave the workshop with the confidence to make changes
9:30

Join, tech support and opportunity to network in breakout rooms

10:00

Instructions, introductions and opening remarks

Workshop leader: Zoe Van Willigen, Clinical Lead Physiotherapist Critical Care, University Hospital Southampton NHS Foundation Trust

Setting the scene

Guidance and experiences shared from University Hospital Southampton (UHS) NHS Foundation Trust

Understanding the national guidance for rehabilitation following critical illness
Integrating data and existing evidence into the business plan for your ICU rehabilitation services
Case study: An overview of UHS pilot projects for each stage of the post ICU recovery pathway

Interactive discussion: Exploring the scope and breadth of therapy for your ICU patients

Who should provide your post ICU rehabilitation service?
Where does the responsibility end when caring for a patient recovering from critical illness?
How does your service work collaboratively to maintain continuity of care?

Rehabilitation in your ICU

Delivering effective and successful rehabilitation in your ICU

Exploring the evidence for delivering rehab within your intensive care unit
How can you create a culture of rehabilitation in your ICU?
Achieving a fully funded rehab team: The UHS Early Mobilisation Project

Interactive discussion: Preventing and managing Post Intensive Care Syndrome (PICS)

How does your service currently support patients following critical illness?
What are the barriers and facilitators to providing ICU rehab in your service?
What measures could be implemented in your unit to prevent PICS for patients following ICU?

Post ICU rehabilitation: on the ward

Breaking down barriers to achieving a fully funded post-ICU rehab service

Exploring the various models of care to address the continuity of care from ICU to the ward
Covid-19: A help or a hindrance to the challenge of funding post ICU rehab services?
Case Study: UHS 'RESTORE' and 'PIRT' pilot projects for COVID 19 patients following ICU discharge

Interactive discussion: Exploring patient rehabilitation pathways following ICU and hospital discharge

What support does your service currently offer patients following their discharge from ICU?
Does your service offer follow up clinics? If so, how do these operate?
What changes have you implemented to YOUR follow up clinics due to Covid-19?

Post hospital discharge rehabilitation

Explore how to ensure rehabilitation continues following your patients' discharge from hospital

How can we demonstrate the need for rehabilitation for patients following hospital discharge?
Accessing funding for MDT follow up clinics and enhanced rehabilitation pathways
Case Study: UHS 'EMPOWER' post ICU outpatient rehabilitation classes

Interactive discussion: Building your action plan to achieving a fully funded rehabilitation service

What will you take away from today that you can implement in your role?
How will you make steps towards achieving your fully funded rehabilitation service?
What will you take back to your role to gain support in building your business case?

3:20

Final questions

3:30

Close of workshop
---
Clinical Lead Physiotherapist Critical Care
University Hospital Southampton Foundation NHS Trust
Zoe van Willigen is a Critical Care Physiotherapist with almost twenty years' experience in the speciality. She has led the Early Mobilisation Project on intensive care (ICU) in Southampton since 2012, which is estimated to have saved her NHS trust over £2.5million. Zoe has conducted and published research into the family and patient experience of rehabilitation on ICU, leading to a number of pilot projects to address the provision of services throughout the ICU recovery pathway. Zoe is chair of the Thames Valley and Wessex Critical Care Network's rehabilitation group and has recently won a £30k Q exchange award to run rehabilitation classes for ICU patients recovering from COVID. Zoe launched and coordinated an online (SLACK) channel during the pandemic, to promote international collaboration and provide a platform for support and sharing resources. The channel currently has over 1000 members from around the globe.
£349 + VAT for one NHS or public sector place
£299 + VAT (each) for two or three NHS or public sector places
£599 + VAT for one commercial organisation place
You can reserve a no-obligation place whilst you apply for funding
Booking contact: name, job title, department, email and telephone number
Event(s) to reserve for: title and date
Delegate details (for each delegate): name, job title, department, email and telephone number
Organisation details: name and address
Ideal for NHS professionals working within critical care rehabilitation looking to develop their service and gain access to funding. This includes but is not limited to:
Senior Physiotherapists
Clinical Lead Physiotherapists
Assistant Practitioners
Consultants
Critical Care Clinical Nurse Specialists
Critical Care Follow up Nurses
Nurses and Sisters
Occupational Therapists
Critical Care Rehabilitation Coordinators
This workshop is continuing on from the success of our last online forum 'Enhancing Critical Care Rehabilitation' in September 2021, but don't take our word for how much attendees enjoy our training:
'Brilliant opportunity to share best practice and network'

University Hospitals of Leicester NHS Trust
'Thank you for the opportunity to meet everyone and learn about all the wonderful things that are happening across the country'

Portsmouth University Hospital Trust
'Very interesting presentations and discussions'

Northampton General Hospital NHS Trust
'I enjoyed all the sessions and gained lots of knowledge about the importance of rehabilitation in Critical care'

Portsmouth Hospitals University NHS Trust
'Really helpful and very well led'

Mid & South Essex NHS Foundation Trust
An online forum like no other…
Branding, marketing and education opportunities include...
Sponsor this forum and be part of a quality interactive event...
But don't take our word for it. We have had some excellent feedback from attendees to the forums that have been held to date:
"Forum was managed extremely well, and very professional"

IAPT National Networking Online Forum 2021 - 21st January 2021
"I am sure like everyone else I was apprehensive with going online, not sure how we could network, the ability for all participant's to participate and the quality of the presentations - all my fears were diminished this turned in to be a great day, networking, leading and sharing still occurred and links still formed. The presentations were excellent and the quality of the forum and set up great and so easy to follow and timing excellent."

Reduce Paediatric Emergency Attendance Online Conference – 8th October 2020
"The conference has been far more engaging than in a conference centre. This I think is because of the ability to participate in chat throughout and the use of the breakout discussions." "Excellent day! Organisation was great - loved the break out rooms for chat. Virtual chat added another really useful way to interact during the day, which isn't available to us at the physical conferences."

Leading Change in Clinical Coding Online Conference - 11th September 2020
"Very informative, lots of opportunity for discussions and very well organised virtually"

Providing Support for Children on Long Term Ventilation - Tuesday 9th March 2021
"I enjoyed the group chats networking listening to others experiences, I also like that there was a lead on each group so the chats were influenced and no awkward silences that can occur on web meets. I thought the larger talks were really good and easy to listen to."

Modernising Outpatient Services Online Conference – 16th September 2020
"This is my first experience of an online conference and thoroughly enjoyed it. Wasn't sure what to expect. Would recommend to colleagues to attend future events" "This has to be the best online conference I have been to, I really enjoyed the breakout rooms."

Advancing Ulcer Care Management Online Forum – 29th September 2020