Tue 25 May 2021 09:00-13:00
Online Forum
Calling all HCPs new to Flash Glucose Monitoring: dedicate one morning to drill down into the basics of Flash Glucose Monitoring and return to your role with the knowledge and confidence to help support your patients on their Flash Glucose Monitoring journey.

However, there is now a new date available! This online course will also be taking place on Thursday 15th July from 9.00am-1.00pm. Register for your free place via zoom.

Please note that places are limited and available on a first come first served basis - so please only register if you plan to attend on the day.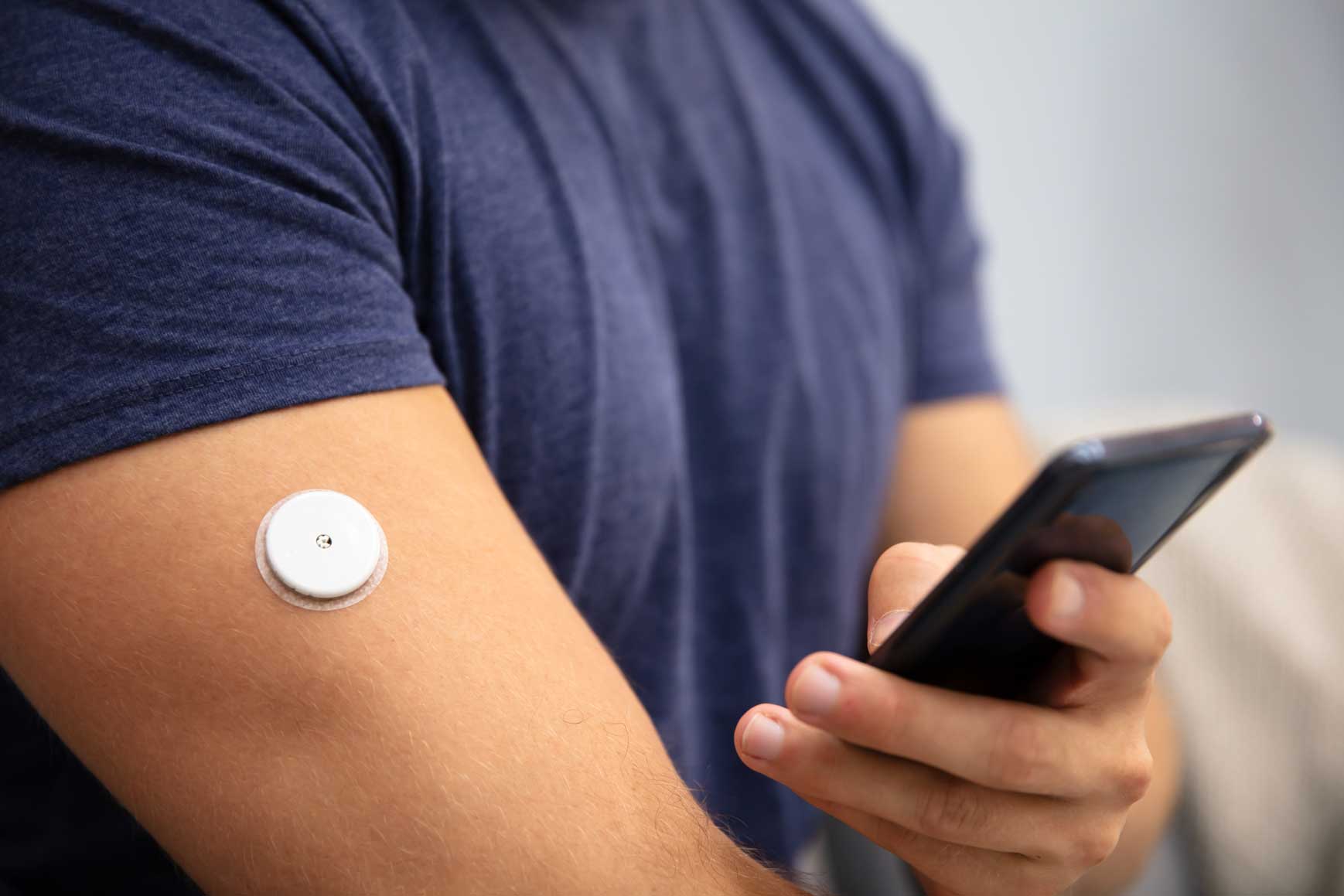 3 hours Continuing Professional Development: what you will learn
If you are a HCP that is new to Flash Glucose Monitoring or you have not previously attended one of our Flash Glucose Monitoring courses, this online training is perfect for you. Find out:
How to insert and set up patients on the sensor
What to tell your patients about Flash Glucose Monitoring
What the AGP is and where to find it
What trend arrows are and what they mean
Online courses in the Flash Glucose Monitoring series:
Specifically crafted to address the different challenges you have as HCPs at your different stages, choose the course most relevant to you*:

9:00

Join, tech support and opportunity to network in breakout rooms

9:30

Introduction, instructions and chair's opening remarks

Ramzi Ajjan, Professor of Metabolic Medicine, University of Leeds

The framework of Flash Glucose Monitoring knowledge
9:40

Understand the basics to support your patients with Flash Glucose Monitoring

Discover the criteria for access and assess the evidenced based benefits for Flash Glucose Monitoring: ABCD evidence explored
DVLA guidance and hypo awareness
Effective and informative patient education: what should you tell your patients?
Technology introduction: inserting the sensors, setting up alarms and understanding the readers and Apps

Fiona Campbell, Lead Clinician for Paediatrics, Leeds Teaching Hospitals NHS Trust

10:10

Questions and answers with the speaker

10:20

Screen break

Understanding the essentials of Flash Glucose Monitoring
10:30

Your guide to downloading and utilising reports: the basics of Flash Glucose Monitoring

What is the AGP and how can I access the AGP data and what information are they sharing?
Where to find and how to understand the data for Time in Range
The basics of hypoglycemia exposure and glucose variability: what should you tell your patients?

Anna Dover, Diabetes Consultant Physician, NHS Lothian

11:00

Questions and answers with the speaker

11:10

Guided interaction: Strengthen your learning through real-life case studies

Lead by the speaker, you will be guided through AGP and Time in Range case study examples and interpretation of trend arrows.
You will be engaged using interactive online polling to cement your knowledge and arm you with the skills to apply in clinic.

Anna Dover, Diabetes Consultant Physician, NHS Lothian

11:35

Networking opportunity in the breakout rooms

Meet a different group of your fellow diabetes colleagues to discuss the content of the day so far and identify how you will integrate your learning into your work within diabetes.

11:45

Screen break

Solidify your understanding of the AGP
11:55

Introductory real-world guidance for the use of the Ambulatory Glucose Profile

Utilising the AGP to support your knowledge and clinic appointments
Best practice guidance for advising your patients using the AGP
What are trend arrows and what are they telling you?

Iain Cranston, Consultant Physician (Diabetes & Endocrinology), Portsmouth Hospitals NHS Trust

11:25

Questions and answers with the speaker

12:35

Guided interaction: Cement your ability to use the AGP to support your patients

Work through pattern recognition case study examples with the support of the speaker who will engage your feedback through the use of online polling

Iain Cranston, Consultant Physician (Diabetes & Endocrinology), Portsmouth Hospitals NHS Trust

1:00

Chair's final remarks and close of conference

First-hand speaker experience
---
Professor of Metabolic Medicine
Professor Ajjan (MD, FRCP, MMed.Sci, PhD) obtained his PhD from the University of Sheffield and completed his clinical training in Diabetes and Endocrinology at Leeds Teaching Hospitals Trust. Professor Ajjan's research work covers a spectrum of basic, translational and clinical studies with the common aim of reducing vascular complications in diabetes and reducing morbidity and mortality in this high-risk population. His research group described three novel mechanisms for hypofibrinolysis in diabetes, with both hypo and hyperglycaemia having key roles. Moreover, Professor Ajjan has shown a close relationship between hypoglycaemia and adverse clinical outcome in patients with diabetes. Given the pathogenic effects of high and low blood glucose levels, he has been involved in a number of studies investigating the role of continuous glucose monitoring in optimising glycaemic control in diabetes. Professor Ajjan's research work has been published in peer reviewed journals and he has over 100 publications including original papers, reviews and book chapters. His clinical practice concentrates on complicated type 2 diabetes patients with established cardiovascular disease as well as young adults with diabetes. Professor Ajjan is the R&D lead for Diabetes/Endocrinology at Leeds Teaching Hospitals Trust and the regional clinical research network lead for endocrine and metabolic conditions. He is also the lead for first year medical student teaching in Endocrinology and Diabetes at Leeds University and co-lead of the Atherothrombosis and Diabetes group within Leeds Institute for Cardiovascular and Metabolic Medicine.
---
Lead Clinician for Paediatrics
Leeds Teaching Hospitals NHS Trust
Dr Campbell has been a Consultant in Paediatric Diabetes for 21 years and runs a large diabetes service at Leeds Children's Hospital. England, UK for 450 patients aged 0-20 years. The Leeds diabetes team has a special interest in the use of technologies and integrating their use into routine clinical practice. 60 % of our patients are using insulin pumps, 30 % using continuous glucose monitoring and over 25% using the Abbott Freestyle Libre system. Dr Campbell has been the Chair of the National Children and Young Peoples (CYP) Diabetes Network in England & Wales for the last 8 years and believes that this has given her a unique perspective of the national picture in the provision of services and standards of care offered to CYP with diabetes in England and Wales. Dr Campbell has a particular interest in improving care quality and has been involved in many quality improvement initiatives in Children and Young Peoples diabetes care over the last 10 years. She was involved in discussions leading to the development of the Best Practice Tariff and its introduction to the CYP Diabetes services in England in 2012. She was also the diabetes clinician that originally developed the National Peer Review Quality Assurance Programme for Paediatric Diabetes. In addition to the above roles she is currently serving on the Council of Healthcare Professionals at Diabetes UK to ensure that the interests of children and young peoples are addressed. She is also CYP Diabetes representative on the NHS England CCG Improvement and Assessment Framework Expert Reference Group, the Diabetes UK Clinical Advisory Group, the ABCD/Diabetes UK Type 1 Right Care pathway development group, Type 1 Diabetes Collaborative and the UK Insulin Pump Network.
---
Consultant Physician (Diabetes & Endocrinology)
Portsmouth Hospitals NHS Trust
Dr Iain Cranston is a diabetes physician based in Portsmouth, UK. He has specialty responsibility for the delivery of technology-driven services (CSII / CGM etc.) to approximately 1% of the UK population. Alongside this, he is the lead diabetes clinician for the Wessex renal and transplant centre, managing individuals with specific and high glycaemic risks. He has a background in clinical research, obtained during his time at Guy's and King's College and St Thomas' Hospitals, into impaired awareness of hypoglycaemia in insulin-treated diabetes and the cerebral and endocrine mechanisms underlying the syndrome. For the last 20 years, Dr Cranston has been in practice with the goal of translating the lessons learnt from research into routine clinical care consultations. This has resulted in a focus on effective glucose monitoring strategies to underpin clinical decision-making and the development of data analytical processes to guide clinical consultations towards more effective therapeutic interventions in both type 1 and type 2 diabetes. He has published widely on this topic area (over 60 Peer-reviewed publications) and has been an invited speaker at Diabetes UK, EASD and many National meetings around the world. For the last 4 years, Dr Cranston has been a co-director in a collaborative educational project with Professor Roger Mazze (International Diabetes Center [IDC] Minnesota), at the AGP Clinical Academy, which has the central goal of educating healthcare professionals in the effective clinical interpretation of the ambulatory glucose profile derived from continuous glucose monitoring technologies.
---
Diabetes Consultant Physician
Dr Dover completed undergraduate science training at St John's College, Cambridge and went on to study medicine at the University of Edinburgh Medical School, graduating in 1999. She undertook a 3 year postdoctoral research degree in the role of cortisol metabolism in vascular inflammation at the University of Edinburgh and was awarded a PhD in 2006. Dr Dover underwent specialist training in Endocrinology & Diabetes in Edinburgh between 2005 and 2013 and was appointed to a Consultant post in Endocrinology & Diabetes in 2013 at the Royal Infirmary of Edinburgh. Her clinical interests include general endocrinology, thyroid eye disease, general diabetes, type 1 diabetes, and the management of diabetes during pregnancy. Her research interests include investigations into steroid-induced diabetes and continuous glucose monitoring in women with type 1 diabetes in pregnancy.


Join over 1500 NHS Professionals who have already started their Flash Glucose Monitoring education journey and benefit from 'fabulous', 'practical' and 'very well structured' training. Take a look at how previous attendees have described our online courses:
"Informative, friendly and highly appropriate content. Really exciting day as it felt like networking and being present at a physical conference, so thank you for making it so warm and welcoming."

Foundation Flash Glucose Monitoring Online Course, October 2020
"It has pointed me in the right direction to start looking at Flash Glucose Monitoring data"

Foundation Flash Glucose Monitoring Online Course, October 2020
"It was really well organised, I liked the ability to ask questions and chat with others"

Advanced Flash Glucose Monitoring Online Course, October 2020
"I was initially very nervous about attending this course but it was absolutely fantastic"

Advanced Flash Glucose Monitoring Online Course, October 2020
"Fantastic learning opportunity. I have taken away lots of different ideas to consider when reviewing patients I wouldn't have looked at previously"

Advanced Flash Glucose Monitoring Online Course, October 2020
"Excellent session. Everyone working in Diabetes should complete this course"

Foundation Flash Glucose Monitoring Online Course, October 2020
In 2020 alone, over 650 NHS professionals attended and benefitted from our Flash Glucose Monitoring online courses. Here are just some of the job titles and organisations that attended: