Mon 11 Dec 2023 20:00-20:45
Webinar
Working in the NHS can be stressful, placing a strain on both the mind and body. This is a special online class, created to give you dedicated time-out and a physical release. Join this beginner session of seasonal yoga with our experienced instructor, Rachel James, and feel the benefits of gentle exercise for your mind and body. Whether you are taking some quiet time or participating with your friends or family, this engaging session is for people of all ages and abilities. It will leave you feeling relaxed and ready to face the upcoming winter pressures.
Places are free and you can attend this webinar live or on-demand after it takes place
Don't forget to check your junk folder if you don't receive your registration email.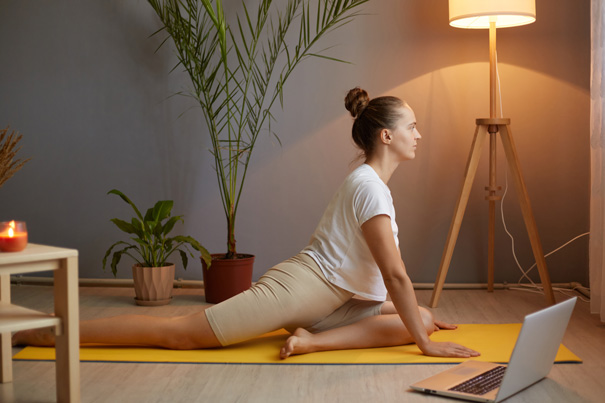 Join along live from the privacy of your own home
Press pause on your hectic work life and reattune yourself to nature through gentle movements in rhythm with the seasons. Book your free place and expect:
To set your own pace: This is a safe place for you to set your own ability and difficulty level in the comfort of your own home
Time to yourself: Reduce your stress and manage anxiety with thoughtful movement
To feel the physical benefits: Improve your circulation and increase your heartrate
Expert instruction: Your instructor will guide you through your yoga poses in live time
To have fun! Please share the link with your family and friends so that you can all benefit
Practise in live time or register now to receive the recording
Strike a pose! Feel the benefits of increased physical strength and flexibility online:
Take part in a facilitated 45-minute yoga session with Rachel James
Find a quiet space with reasonable clearance to enable you to stretch in comfort
Full privacy with your camera and microphone switched off
Or you can catch up with the webinar content at any time on-demand after it takes place
Your seasonal yoga instructor
---
Learning & OD Business Partner
Royal College of Physicians
---
Rachel has over 20 years' HR/L&OD experience across the public and not-for-profit sectors. Rachel currently heads the Learning & Organisational Development team for the Royal College of Physicians, leading on skills development, cultural transition, wellbeing and belonging. Rachel co-chairs, with the RCP's president, the strategic Diversity & Inclusion taskforce and under her stewardship the RCP won the 'best mental health and wellbeing support' award from Memcom in 2021. Rachel is also an experienced coach and learning specialist, designing and delivering development programmes for staff, managers and leaders. Her particular interest is around developing organisational culture and behaviours to maximise people's wellbeing, performance and continuous improvement.
See what our free wellbeing webinars have previously been described as:
'Amazing! Just listening to Mike's voice made my anxiety melt away'

30 Minute Meditation: Building your Resilience During Uncertainty
'Excellent! I really liked the meditation techniques used and speaker's voice was very relaxing thank you everyone'

30 Minute Meditation: Building your Resilience During Uncertainty
'Calming and restorative'

30 Minute Meditation: Building your Resilience During Uncertainty
'Brilliant! I will pass on the recording to family and friends and colleagues who I know have also had problems recently'

30 Minute Meditation: Mindfully Managing your Anxiety
'Really enjoyed session and materials provided will assist greatly in practicing newly learned techniques.'

30 Minute Meditation: Mindfully Managing your Anxiety
'Hits exactly the right pace, voice is soothing - could listen for hours!'

30 Minute Meditation: Mindfully Managing your Anxiety
'Very useful session during these stressful times.'

30 Minute Meditation: Reducing your Stress and Worry
'Good to take time to reflect on true feelings'

30 Minute Meditation: Reducing your Stress and Worry
'Very calming nature and very good at guiding the meditation'

30 Minute Meditation: Reducing your Stress and Worry
'Was very soothing and helpful'

30 Minute Meditation: Improving your Sleep
'Two really useful short meditations and I felt such relief seeing the comments in the chat and realising I wasn't the only one - lots of others were posting about having the exact same problems I do with sleeping'

30 Minute Meditation: Improving your Sleep
'Absolutely fantastic, really helpful'

30 Minute Meditation: Improving your Sleep
'Practical ideas that really seem to work and are supportive towards stressed NHS workers'

30 Minute Meditation: Improving your Sleep
'Excellent as great to sit and relax as not often time in this busy world'

30 Minute Meditation: Improving your Sleep
Supporting NHS professionals
Your company associated with an educational forum
Reach out to your current or a new audience