Mon 15 Jan 2024 09:30-15:50
Online Workshop
*** Black Friday Deal *** Book your full price NHS or Public Sector place before Friday 8th December and get one third off!

Hone in on your leadership style, learn how to manage to your strengths and harness your existing skills to boost productivity. . Find out how to meet the communication needs of your team and discover practical ways to incorporate health and wellbeing into your organisation. Through careful contemplation, idea sharing and guided examples, log off with more confidence to enable you to manage your team.
You may also be interested in: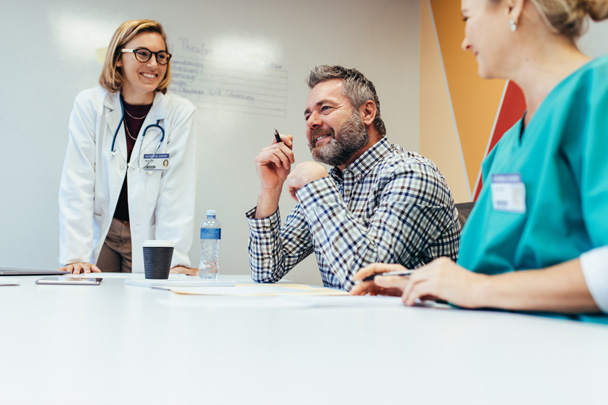 Online
5.5 hours
From £266+VAT
5.5 hours Continuing Professional Development: what you will learn
Are you keen to improve your management skills? Driven to improve your team's wellbeing? Motivated to draw the best out of your colleagues? If yes, then this online forum is for you. Book your place and refocus on:
Strategies for boosting your team's morale whilst working under pressure
Recognising new and existing strengths in your workforce to maximise outcomes
Diving into the impact and importance of effective emotional management
Incorporating mentoring skills into your management practice
Exploring practical approaches to boost your team's approach to stress and pressure
Equipping you and your team with coping mechanisms to activate during high pressure periods
Developed with convenience in mind: join this NHS online workshop remotely
Take away useful techniques and new skills to use in your day-to-day role:
Evidenced based examples and referrals: providing a supportive environment to learn from your workshop leader and peers
Interactive presentations: your concerns addressed with sensitivity and care
Closed room discussions: benchmark and engage with your fellow attendees
Agreed action plan: leave the workshop with the confidence to make changes
This course is available for in-house training
9:30

Join, tech support and opportunity to network in breakout rooms

10:00

Introduction, instructions and chair's opening remarks

Christine Steel, Founder & CEO, Mind Health and Wellbeing Limited

Achieving Strength Based Leadership Style
10:10

Understanding and instilling a strength based leadership 'approach' in practice

What is a strength based leadership 'approach' and how can it benefit you and your team
Discover the habits that will enable individuals to flourish and build your team's engagement
Acknowledge unrecognised strengths in your team and adapt to utilise them

11:10

Interactive discussion: Assessing and applying your team's strengths

What awareness of strengths do you and your team currently have in place?
What could you incorporate going forward? How will you do this?

11:30

Screen break

Developing your team's emotional strength
11:40

Learning how emotional lead management can lead to a thriving team

What does emotional intelligence look like? Recognising the four key domains involved
Navigating how to improve relationships both at work and at home
Developing an awareness that leads to better emotional management in the workplace

12:30

Interactive discussion: What does emotional support look like in practice?

What steps will you take to help build emotional awareness?
What are some of the barriers and obstacles that you might face? How will you overcome these?

12:50

Lunch time screen break

Improving the wellbeing of your team
1:20

Communication strategies to reduce anxiety and stress in the workplace

Breaking down barriers and building trust with the right communicate strategies
Understanding the communication needs of your team and how best to support them
Developing opportunities to increase awareness and openness that encourages your team to thrive

2:10

Interactive discussion: What does the wellbeing of your team look like today?

Where could you start to engage the individuals on your team?
How could you build health and wellbeing into daily conversations?

2:20

Screen break

Building a strong foundation on health and wellbeing
2:30

Encouraging you and your team to take positive steps towards making healthier lifestyle choices

Learn how to take back control of your mind and body when faced with anxiety and stress
Develop techniques that will put you back in control in a healthy and positive way
Engage in high energy habits to build your confidence and improve your quality of life

3:20

Final questions and discussion: How do you make time for self-care?

Where do you get started?
How will other people react to these positive changes?

3:50

Leader's closing remarks and close of workshop
Be guided by your workshop leader
A unique forum packed with examples of best practice, novel ideas and expert advice from:
---
Mind Health and Wellbeing Limited
Christine has a passion for finding ways to lower the levels of anxiety and stress suffered by students, having personally experienced the impact that the stress of education can have on health with her own daughter. She believes in prevention and finding ways to reach a balance between education and health to avoid suffering from burnout. Christine's interest in reducing stress for students has also led her into expanding her support into helping and encouraging others who work in some of the most stressful sectors.
Sharing tools and techniques, insights, and knowledge to help reduce anxiety and stress, Christine is encouraging everyone to build their own personal resilience tool kit. With those tools being specific to their own personal needs.
Helping people to feel more able and more confident in going some way to supporting their own mental health needs whilst going through life's inevitable ups and downs, Christine has created and developed a series of talks and workshops to share the importance of taking your own self-care seriously. She has been a speaker on webinars for online conference events for raising awareness and supporting NHS staff and other medical professionals primarily in the pharmaceutical sector for the need to put their own self-care back in the frame and to take their health and wellbeing seriously.
Christine has previously worked for the NHS in the Women and Children's Directorate as the Medical Workforce Officer supporting both obstetrics & gynaecology and paediatrics. Later working in CAMHS and then in the Executive Directorate as the Compliance & Corporate Support Officer. This role involved working with the Clinical Management Team, the Hospital Management Committee, and the Board of Governors.
Christine has been a lifelong learner and a researcher through her love of books, adding to her life experiences. Further supporting as a Mental Health First Aider and Wellbeing Champion in her daily life. As a mental health and wellbeing advocate, Christine has also created a de-stress tool for students and others to use as a coping mechanism, providing a safe space to write out your thoughts, feelings and process your emotions, reducing anxiety and stress.
*** Black Friday Deal *** £266 + VAT until Friday 8th December
£399 + VAT for one NHS or public sector place
You can reserve a no-obligation place whilst you apply for funding
Booking contact: name, job title, department, email and telephone number
Event(s) to reserve for: title and date
Delegate details (for each delegate): name, job title, department, email and telephone number
Organisation details: name and address
Come together with managers from across the country to develop your management style and reflect on your current practices. This includes but is not limited to:
NHS teams to attend as either a group or individuals to enhance management approach
Service managers, clinical or nurse leads to build your understanding of team qualities
Created to support NHS teams and individual professional development, this informative workshop joins our portfolio of 2023 professional development events and have been described as:
"Really excellent and engaging presenter with useful content"

Leadership Skills for Civility and Respect, May 2023
"A great day lead with sensitivity and care"

Leadership Skills for Civility and Respect, May 2023
"It was a really enjoyable training session. Time passed quickly and it had a nice balance between breakout sessions and sessions led by the trainer"

Handling and Responding to Difficult Conversations, January 2023
"Really good course giving practical help on how to have difficult conversations. Lots of tools to use in real-world situations"

Handling and Responding to Difficult Conversations, January 2023
"The training was amazing today. Found it really helpful for myself and as a manger to a lovely team who I care about"

Handling and Responding to Difficult Conversations, January 2023
An online forum like no other…
Branding, marketing and education opportunities include...
Sponsor this forum and be part of a quality interactive event...
But don't take our word for it. We have had some excellent feedback from attendees to the forums that have been held to date:
"Forum was managed extremely well, and very professional"

IAPT National Networking Online Forum 2021 - 21st January 2021
"I am sure like everyone else I was apprehensive with going online, not sure how we could network, the ability for all participant's to participate and the quality of the presentations - all my fears were diminished this turned in to be a great day, networking, leading and sharing still occurred and links still formed. The presentations were excellent and the quality of the forum and set up great and so easy to follow and timing excellent."

Reduce Paediatric Emergency Attendance Online Conference – 8th October 2020
"The conference has been far more engaging than in a conference centre. This I think is because of the ability to participate in chat throughout and the use of the breakout discussions." "Excellent day! Organisation was great - loved the break out rooms for chat. Virtual chat added another really useful way to interact during the day, which isn't available to us at the physical conferences."

Leading Change in Clinical Coding Online Conference - 11th September 2020
"Very informative, lots of opportunity for discussions and very well organised virtually"

Providing Support for Children on Long Term Ventilation - Tuesday 9th March 2021
"I enjoyed the group chats networking listening to others experiences, I also like that there was a lead on each group so the chats were influenced and no awkward silences that can occur on web meets. I thought the larger talks were really good and easy to listen to."

Modernising Outpatient Services Online Conference – 16th September 2020
"This is my first experience of an online conference and thoroughly enjoyed it. Wasn't sure what to expect. Would recommend to colleagues to attend future events" "This has to be the best online conference I have been to, I really enjoyed the breakout rooms."

Advancing Ulcer Care Management Online Forum – 29th September 2020