Thu 7 Mar 2024 09:30-15:30
Online Workshop
*** Black Friday Deal *** Book your full price NHS or Public Sector place before Friday 8th December and get one third off!

Be inspired to combine expertise in both chronic heart failure and pulmonary rehabilitation to deliver an effective, symptom led service in line with the NHS Long Term Plan. Your workshop leader, Nikki Gardiner, will share her first-hand experience and lessons learnt from building a well-established and successful breathlessness service. You will leave this interactive course equipped with the unique insight of University Hospitals of Leicester NHS Trust and a head start in providing your patients with breathlessness care and treatment to improve the rehabilitation pathway and keep patients closer to home.
Another event of interest: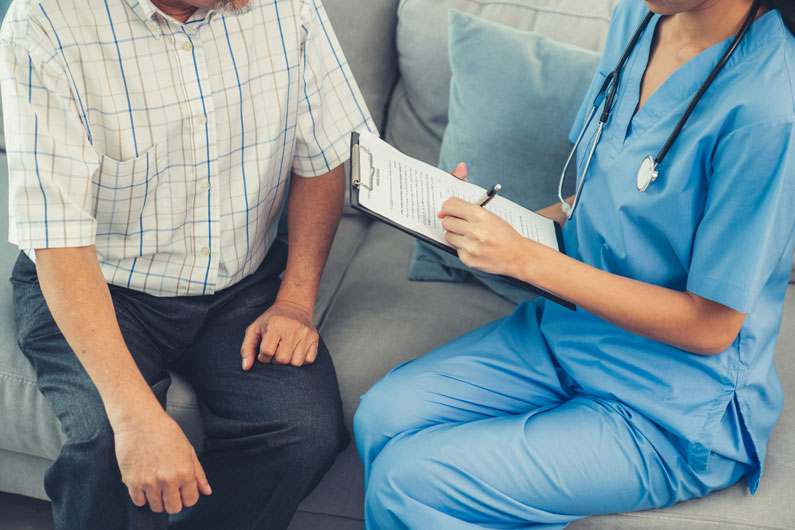 Online
5 hours
From £266+VAT
5 hours Continuing Professional Development: what you will learn
Expand your cardiology and respiratory service provisions by learning how to build and operate your breathlessness rehabilitation service. This workshop will explore how you can:
Deliver a new service that meets the needs of your population
Develop Standard Operation Procedures (SOP) to support development of the service
Achieve an integrated approach to respiratory care to share expertise across specialities
Create a multi-disciplinary team that reduces admissions and helps people to stay at home
Collaboration across cardiac and pulmonary teams to drive forward best practice in both clinical specialities
Integrate joint cardiac and pulmonary rehabilitation programmes for breathlessness
Promote the role of supported self-care and patient education
Monitor and signpost patients for effective mental health support
Build a multi-professional, scalable service to provide comprehensive rehabilitation care
Developed with convenience in mind: join this NHS online workshop remotely
With an enhanced emphasis on networking, interactive discussion and idea sharing, this workshop will provide you with all the elements you need to deliver change through:
Evidenced based examples and referrals: providing appropriate, relevant support and sign posting
Interactive presentations: your concerns addressed with sensitivity and care
Closed room discussions: benchmark and engage with your fellow attendees
Agreed action plan: leave the workshop with the confidence to make changes
This course is available for in-house training
9:30

Registration, technical support and networking opportunity

10:00

Introduction, instructions and leader's opening remarks

Achieve the NHS Long Term Plan (LTP)
10:10

Developing a breathlessness pathway to meet the NHS LTP objectives

Investigating NHS initiatives to improve patient uptake for breathlessness rehabilitation (the evidence behind cardiac and rehab, heart failure)
Meeting the community's needs, increasing admissions and improving the quality of life
Cardiac and pulmonary rehab collaboration to deliver an expanded care package

11:00

Questions and answers with Nikki Gardiner

11:10

Screen break

11:20

Creating a service that meets population needs, promotes and supports self-care in practice

Looking at our own population: looking at data and individual demands on your service
Where do you deliver rehab? Looking at your workforce, who is in your team?
Clinical expertise: maximising skills and expertise in your service

11:50

Seeking help and advice to build your business case

Getting the right people around the table: who can you get help from?
How do you get your ICB leads in cardiac and respiratory?
Collecting data: demonstrating financial benefits outcomes to obtain funding and prove your service

12:20

Questions and answers with Nikki Gardiner

12:30

Lunch time screen break

Evidence based business planning
1:10

Creating individual Standard Operating Procedures (SOP) for your service

Time out period: understanding processes services and shared experience of each other
Understanding our referrals, process mapping and paperwork: recognising similarities and differences
Demonstrating the benefits: maintaining skills within your skills speciality and gaining new ones

2:00

Questions and answers with Nikki Gardiner

2:10

Screen break

Demonstrating the benefits
2:20

Evidenced outcomes for patients: how much has changed for us?

Improved mood measures and the GAD 7 PHQ9: monitoring for mental health
Increased access and reduced waiting times: easing the pathway through your rehab service
Refining best practice across both disciplines: learning from each other and creating improvement plans

3:10

Questions and answers with Nikki Gardiner

3:20

Learning summary: What will you take back to your service?

3:30

Close of workshop
Share in first-hand experience
A unique forum packed with examples of best practice, novel ideas and expert advice from:
---
Clinical Lead for Cardiac and Pulmonary Rehabilitation/COPD and Home Oxygen Service
University Hospitals of Leicester NHS Trust
Nikki currently works as a Clinical Lead for Cardiac & Pulmonary Rehabilitation/COPD and Home Oxygen Service within the University Hospitals of Leicester NHS Trust.
Nikki has been qualified as registered nurse since 1990. Her specialisms have been mainly within the field of cardiac nursing. For the last 31 years, this has included working within Cardiology, Coronary Care Unit, Cardiac Surgery and Cardiac and Pulmonary Rehabilitation departments.
The last 16 years have mainly been spent working within the field of Cardiac Rehabilitation within Leicester. She recently gained an MSc in Advanced Health & Professional Practice at De Montfort University. She is also involved with many aspects of research, from design to delivery and evaluation.
As part of a specialist nursing position, Nikki is involved in shaping the delivery of rehabilitation which includes the development of the South Asian service, the Breathlessness rehabilitation programme and web-based rehabilitation programmes such as Activate Your Heart ®and SPACE for COPD®. More recently she has been involved with the development of a local Covid Rehabilitation pathway and service which involves leading on an exercise and education and web-based programme as well as working within the long covid clinic. Nikki was on the core team in developing the Your Covid Recovery websites and has been working in collaboration with NHS-E on the Your Covid Recovery web based platforms. She has been instrumental in supporting teams both locally and across England.
*** Black Friday Deal *** £266 + VAT until Friday 8th December
£399 + VAT for one NHS or public sector place
You can reserve a no-obligation place whilst you apply for funding
Booking contact: name, job title, department, email and telephone number
Event(s) to reserve for: title and date
Delegate details (for each delegate): name, job title, department, email and telephone number
Organisation details: name and address
This online meeting is ideal for NHS professionals working with breathlessness:
Cardiac and Pulmonary Rehabilitation Leads
Respiratory Nurse Specialists, Physiotherapists, Support Nurses and Physiologists
Community Cardiology and Respiratory Nurses
Cardiology Nurses and Heart Failure Nursing Services
Transformation Leads
Palliative Care Consultants and Nurse Specialists
Stroke Support Services and Recovery Groups
Following on from our well attended, 'Best Practice for Non-Invasive Ventilation' which took place online in June 2021, was described as 'excellent' and 'a great way of sharing best practice' but don't take our word for how much the attendees enjoy our training:
"Really enjoyed this study day, I think the entire faculty team have done a great job of ensuring this was interactive and informative!"

Sheffield Teaching Hospital NHS Foundation Trust
"Really lovely interact way to meet other clinical staff in respiratory and to share ideas and how we can develop our services!"

South West Yorkshire Partnership NHS Foundation Trust
"A really varied topic base. I was a speaker and enjoyed all aspects of the day!"

Leeds Clinical Care Commissioning Group
"Informative and educational across a wide range of experiences"

Lancashire Teaching Hospitals NHS Foundation Trust
"It was really helpful to discuss how colleagues from across the country have worked during Covid, particularly in relation to NIV"

Bedfordshire Hospitals NHS Foundation Trust
"Excellent networking learning"

University College London Hospitals NHS Foundation Trust
"Very organised"

Royal Devon University Healthcare NHS Foundation Trust
An online forum like no other…
Branding, marketing and education opportunities include...
Sponsor this forum and be part of a quality interactive event...
But don't take our word for it. We have had some excellent feedback from attendees to the forums that have been held to date:
"Forum was managed extremely well, and very professional"

IAPT National Networking Online Forum 2021 - 21st January 2021
"I am sure like everyone else I was apprehensive with going online, not sure how we could network, the ability for all participant's to participate and the quality of the presentations - all my fears were diminished this turned in to be a great day, networking, leading and sharing still occurred and links still formed. The presentations were excellent and the quality of the forum and set up great and so easy to follow and timing excellent."

Reduce Paediatric Emergency Attendance Online Conference – 8th October 2020
"The conference has been far more engaging than in a conference centre. This I think is because of the ability to participate in chat throughout and the use of the breakout discussions." "Excellent day! Organisation was great - loved the break out rooms for chat. Virtual chat added another really useful way to interact during the day, which isn't available to us at the physical conferences."

Leading Change in Clinical Coding Online Conference - 11th September 2020
"Very informative, lots of opportunity for discussions and very well organised virtually"

Providing Support for Children on Long Term Ventilation - Tuesday 9th March 2021
"I enjoyed the group chats networking listening to others experiences, I also like that there was a lead on each group so the chats were influenced and no awkward silences that can occur on web meets. I thought the larger talks were really good and easy to listen to."

Modernising Outpatient Services Online Conference – 16th September 2020
"This is my first experience of an online conference and thoroughly enjoyed it. Wasn't sure what to expect. Would recommend to colleagues to attend future events" "This has to be the best online conference I have been to, I really enjoyed the breakout rooms."

Advancing Ulcer Care Management Online Forum – 29th September 2020