Fri 4 Feb 2022 09:30-15:30
Online Workshop
Come together with your orthopaedic colleagues from across the country to network, share experiences and discover how to establish and evolve your remote fracture clinic. This is a great opportunity to build an action plan to reduce backlog, improve access and enhance efficiency. Don't miss out on this unique online forum that will optimise your service and enable you provide the best possible care for your fracture patients.
Setting up your Remote Fracture Clinic brochure: save, print or share with your colleagues.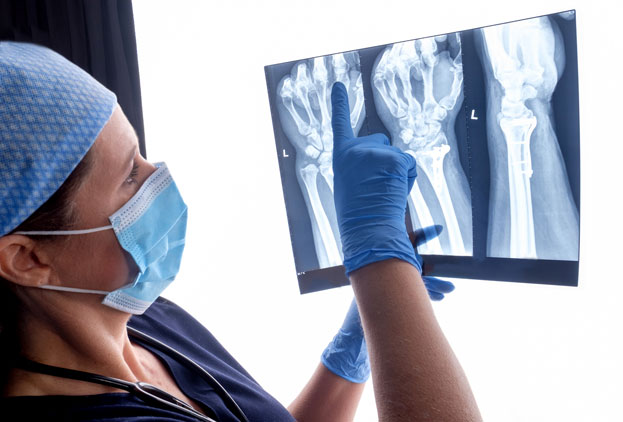 5 hours Continuing Professional Development: what you will learn
This informative and interactive workshop will enable you to build an action plan to drive forward and progress your fracture clinics. You will leave the day with the knowledge to:
Set up a virtual clinic to reduce backlog
Prepare an optimal business case
Secure funding to manage demand in your service
Empower your team to run virtual consultations
Optimise and enhance your fracture clinic
Attend this online NHS workshop from the comfort of your own home
Take away useful techniques and new skills to use in your day-to-day work routine:
Evidenced based examples: optimising your fracture clinic
Interactive presentations: supporting you to build a practical plan for setting up your virtual clinic
Closed room discussions: benchmark and engage with your fellow attendees
Agreed action plan: leave the workshop with the confidence to make changes
9:30

Join, tech support and opportunity to network in breakout rooms

10:00

Introduction, instructions and leader's opening remarks

Dr Atif Malik, Consultant Trauma and Orthopaedic Surgeon, Milton Keynes University Hospital NHS Foundation Trust

Build a practical plan for setting up your remote clinic

Case study: Setting up a virtual clinic to reduce consultation backlog

Practicalities of setting up and delivering virtual clinics in your fracture service
Obtaining buy in, getting equipment connected and training your team to be competent with virtual clinic technology
Measuring the success: reduction in backlog, improved access and enhanced efficiency

Interactive session: What impact could virtual clinics have on your fracture clinic?

Take this opportunity to benchmark your service against others. Consider where your service is now, your consultation backlog and how virtual clinics can change the way your service is delivered.

Prepare an optimal business case

How to secure the funding for the demand in your service

How to conduct an impact assessment to compare cost and savings
Utilise data and research to drive the case for virtual clinics, understand cost implications and overcome resource challenges
The importance of communicating the goals of virtual clinics with patients to improve engagement

Interactive session: How to obtain funding to develop new virtual clinics

Develop a business case to help to obtain clinical governance buy in and apply for funding. Learn how to analyse service demand, identify areas for greater virtual clinic provision, gain clinical buy-in and ensure you have the necessary resources and staffing.

Training and upskilling your team

Developing and delivering effective virtual clinic training

Developing training plans that focus on the skills required for wider involvement with patient diagnosis and treatment
The importance of working collaboratively to ensure effective, appropriate training
How to evaluate and monitor the outcomes of your training

Interactive session: Consider improvements for training and empowering your team

Discuss ways in which similar training and development can be implemented in your trust to increase the capacity of your service and improve waiting times for patients.

The road-map to achieving a successful virtual clinic

Case Study: An in-depth review of the process of setting up a virtual clinic

Explore the drivers for setting up a virtual clinic: reducing backlog, improving access and enhancing efficiency
A practical step-by-step guide to the virtual clinic process for ophthalmology
Understand the IT systems required to support patient referral pathways

Interactive session: Build your own guide for setting up and running virtual clinics to reduce backlog

Consider how the lessons learnt from other's experience can be applied to your own service. Discuss the step-by-step process with your colleagues, consider what success for virtual clinics looks like and benchmark your service.

3:30

Close of workshop
Share in first-hand experience
Discover how you can achieve higher standards of care by implementing and evolving your virtual fracture clinic. Your workshop leader Dr Atif Malik will provide a 'patient and informative' approach to teaching and will share 'really valuable, interesting and informative points' which you can implement in your role.
---
Consultant Trauma and Orthopaedic Surgeon
Milton Keynes University Hospital NHS Foundation Trust
Mr Atif A Malik is a Consultant Trauma & Orthopaedic Surgeon with a special interest in Hip, Knee and Sports Injuries. Mr Malik completed his under-graduate training at the University of Manchester Medical School. His interest in trauma, orthopaedics and sports injuries developed whilst working with the Orthopaedic surgeon looking after Manchester United Football Club. He went onto be appointed to the prestigious Royal National Orthopaedic Hospital, Stanmore Higher Surgical Rotation for Trauma & Orthopaedics.
He continued to develop his sub-speciality interest in hip and knee pathology by completing the highly sought after John Charnley Fellowship at Wrightington Hospital with Professor Peter Kay (Medical Director for MSK Services, NHS England) and Professor Martyn Porter (Medical Director of the National Joint Registry).
He was awarded the European Society for Sports Traumatology, Knee Surgery and Arthroscopy Fellowship in 2014 allowing him travel to centres of excellence in Innsbruck, Vienna, Paris, Lyon, Rome, Genoa, Madrid and Lisbon to further refine and develop his surgical practice. He was also awarded the Ronald Raven Barbers Award by the Royal College of Surgeons of England allowing him to visit Dr Charles Brown, a world renowned figure in knee surgery specialising in meniscal injury and knee ligament reconstruction. He was also awarded the Ethicon Travelling Fellowship Award by the Royal College of Surgeons of Edinburgh. In addition, Mr Malik was a participant in the Academic Exchange Program at the Endo Klinik in Hamburg, Germany with Professor Thorsten Gehrke, a leading expert in prosthetic joint infections.
He continued developing his interest in sports injuries and was appointed as a sports doctor for the Wrestling events at the Commonwealth Games and was also the resident sports doctor and Field of Play doctor for the football games at Old Trafford during the Olympics in 2012. He was the Club Doctor for the London Skolars Rugby League Club until 2016 and continues to look after elite athletes. He has also completed a Diploma in Football Medicine with Fédération Internationale de Football Association (FIFA). He has also been awarded Fellowship of the American College of Surgeons.
Mr Malik is passionate about teaching and training medical students and junior doctors. He has completed a Post-Graduate Diploma in Clinical Education and is currently the Deputy Block lead for MSK at the University of Buckinghamshire Medical School. He is also a member of the Faculty of Surgical Trainers with the Royal College of Surgeons of Edinburgh.
He has over 30 publications in international journals including invitations to act as guest editor for special editions of several journals. He has also been invited to write numerous book chapters with a particular emphasis on trauma and sports injuries and has presented his research at numerous national and international conferences.
Mr Malik also acted as the orthopaedic advisor to the popular BBC drama series Holby City.
£349 + VAT for one NHS or public sector place
£299 + VAT (each) for two or three NHS or public sector places
£599 + VAT for one commercial organisation place
You can reserve a no-obligation place whilst you apply for funding
Booking contact: name, job title, department, email and telephone number
Event(s) to reserve for: title and date
Delegate details (for each delegate): name, job title, department, email and telephone number
Organisation details: name and address
This online meeting is ideal for NHS professionals who currently deliver fracture clinics and are looking to develop them into virtual clinics. This includes but is not limited to:
Orthopaedic Consultants
Physiotherapists
Specialist Orthopaedic Practitioners
Specialist Nurses
This online course follows on from Atif Malik's previous and extremely successful interactive workshop. Don't just take our word for it, take a look at what the attendees wrote:
"Thank you so much, I've really learnt a lot and I'm keen to take the ideas forward to the trust"

Achieving Best Practice for Hip Fracture, October 2021
"This day couldn't be any better!"

Achieving Best Practice for Hip Fracture, October 2021
"Thank you for today, it has been flawless"

Achieving Best Practice for Hip Fracture, October 2021
"This experience was great, Atif was informative and customised the session accordingly. Sarah was super helpful throughout with the technical support"

Achieving Best Practice for Hip Fracture, October 2021
"Well organised, ran smoothly, big thanks Sarah and Atif"

Achieving Best Practice for Hip Fracture, October 2021
"A really valuable day, I learnt a lot"

Achieving Best Practice for Hip Fracture, October 2021
An online forum like no other…
Branding, marketing and education opportunities include...
Sponsor this forum and be part of a quality interactive event...
But don't take our word for it. We have had some excellent feedback from attendees to the forums that have been held to date:
"Forum was managed extremely well, and very professional"

IAPT National Networking Online Forum 2021 - 21st January 2021
"I am sure like everyone else I was apprehensive with going online, not sure how we could network, the ability for all participant's to participate and the quality of the presentations - all my fears were diminished this turned in to be a great day, networking, leading and sharing still occurred and links still formed. The presentations were excellent and the quality of the forum and set up great and so easy to follow and timing excellent."

Reduce Paediatric Emergency Attendance Online Conference – 8th October 2020
"The conference has been far more engaging than in a conference centre. This I think is because of the ability to participate in chat throughout and the use of the breakout discussions." "Excellent day! Organisation was great - loved the break out rooms for chat. Virtual chat added another really useful way to interact during the day, which isn't available to us at the physical conferences."

Leading Change in Clinical Coding Online Conference - 11th September 2020
"Very informative, lots of opportunity for discussions and very well organised virtually"

Providing Support for Children on Long Term Ventilation - Tuesday 9th March 2021
"I enjoyed the group chats networking listening to others experiences, I also like that there was a lead on each group so the chats were influenced and no awkward silences that can occur on web meets. I thought the larger talks were really good and easy to listen to."

Modernising Outpatient Services Online Conference – 16th September 2020
"This is my first experience of an online conference and thoroughly enjoyed it. Wasn't sure what to expect. Would recommend to colleagues to attend future events" "This has to be the best online conference I have been to, I really enjoyed the breakout rooms."

Advancing Ulcer Care Management Online Forum – 29th September 2020