Tue 22 Mar 2022 09:00-15:30
Online Workshop
Created for Clinical Research professionals who have a strong base level understanding of information governance for clinical research. This dedicated online course will provide an advanced focus on the practical application of data sharing to solidify your knowledge. As an accurate reflection of the latest changes in the law, this NHS and public sector course will contain the most up to date real-world guidance in the field.
Advanced Practical Application of IG for Clinical Research Databases and Trials brochure: save, print or share with your colleagues.
This course has been designed to be booked together with Introduction to IG for Clinical Research Databases and Trials on Wednesday 2nd February 2022 which will arm you with the foundation of knowledge ready for practical application. If you have already attended IG for Clinical Research Databases and Trials in 2021 then you have the knowledge and are ready to attend this follow-on event to progress your learning.
You may also be interested in Clinical Research Leadership and Management taking place on Thursday 24th February 2022.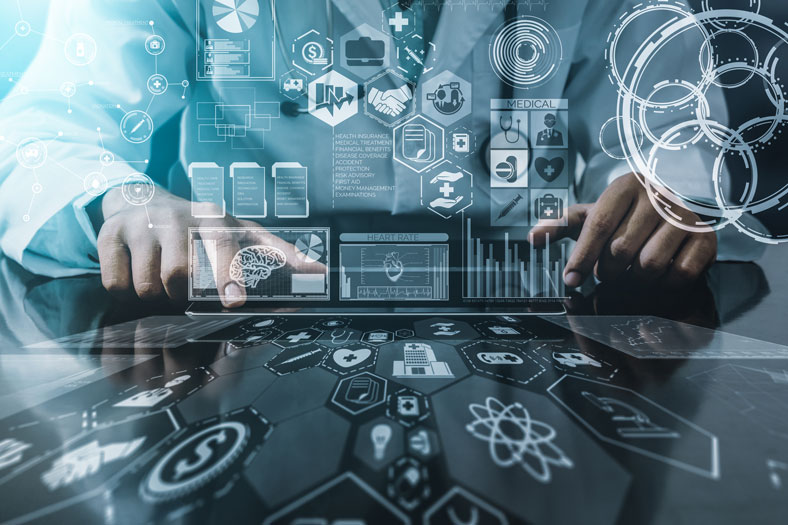 5 hours Continuing Professional Development: what you will learn
Put your knowledge to the test at this interactive online workshop by working through real world examples and exploring the nuances of data protection law, consent and contracts. Take a step back to reassess your practice and leave this online course inspired and equipped with the skills to apply your learning in your role. Take one day out to focus on:
Conducting a Data Protection Impact Assessment (DPIA)
Completing joint controller arrangements
Setting out a data sharing and data processing agreements
Inclusion informed consent forms (ICFs) and patient information sheets
Information governance relationship mapping
Joint controller and processor application of GDPR
Watch this online workshop from the comfort of your own home
Take away useful techniques and new skills to use in your day-to-day work routine:
Apply your knowledge to real world example: take your learning to the next level
Interactive presentations: your concerns addressed with sensitivity and care
Closed room discussions: benchmark and engage with your fellow attendees
Agreed action plan: leave the workshop with the confidence to make changes
9:00

Join, tech support and opportunity to network in breakout rooms

9:30

Introduction, instructions and leader's opening remarks

Identifying and minimising risks

How to conduct a Data Protection Impact Assessment (DPIA)

Applying DPIA guidance and resources
Working through the DPIA to solidify your knowledge

Data sharing

Real-world worked examples for completing arrangements

How to completely joint controller arrangements
Setting out a data sharing and data processing agreements

Patient consent and information

Consent and participation for clinical research trials

Inclusion informed consent forms (ICFs)
Patient information sheets

GDPR

Application of relationships and responsibilities for GDPR

Information governance relationship mapping
Joint controller and processor application of GDPR

3:30

Chair's closing remarks and close of workshop
Share in first-hand experience
Both Amy and Joe will bring their extensive experience and knowledge to guide you through this informative workshop. One attendee from 2021's course commented: "I found the presenters to be extremely knowledgeable, I wish I could have half their knowledge. Well Done!"
---
Kaleidoscope Data Privacy Consultants
A highly skilled and experienced Information Governance Practitioner with a continued keen interest in information law and best practice.
Amy leads an expert team to support the utilisation of innovative digital solutions to make the best use of Big Data in a lawful and secure manner.
An indispensable part of Kaleidoscope Consultants, Amy currently acts as deputy to the Managing Director, as well as ensuring that the delivery and management of consultancy services are running smoothly.
Key Skills
Expert in information rights law
Stakeholder IG Training
Data flow mapping
Governance strategy/best practice
Embedding effective stakeholder engagement
Education
LLM (Masters at Law)/ICSA Grad, Corporate Governance and Law, University of Portsmouth (2015)
HND (Higher National Diploma, Business (2012)
Prince 2 Foundation, ILX (2010)
Professional Diploma at Law, Fareham College (2006)
---
Kaleidoscope Data Privacy Consultants
Joe is a qualified Data Protection Practitioner, with an in-depth knowledge of the Data Protection Act (2018) (DPA), General Data Protection Regulation (GDPR) and the common law duty of confidence with nearly a decade's experience in data protection across the public and private sector in health and care.
Taking a special interest in the implementation of digital health technology, Joe has successfully supported both NHS and digital health organisations meet the complex data protection requirements of both the creators and adopters of such technologies. This experience includes being the Information Governance Subject Matter Expert for four NHS Clinical Commissioning Groups and supporting a variety of digital health companies into the NHS with new and emerging technologies such as AI. Joe took the learning and challenges of this complex area when completing his Masters dissertation on the topic of data protection challenges in the implementation of digital health technologies, to which he earned a distinction.
£349 + VAT for one NHS or public sector place
£299 + VAT (each) for two or three NHS or public sector places
£599 + VAT for one commercial organisation place
You can reserve a no-obligation place whilst you apply for funding
Booking contact: name, job title, department, email and telephone number
Event(s) to reserve for: title and date
Delegate details (for each delegate): name, job title, department, email and telephone number
Organisation details: name and address
This course is of benefit to any public-sector Research and Development Unit based in Acute Trusts, Ambulance Services, CCGs, Charities, Health Boards, Mental Health Trusts, Networks and Universities. Past attendees have included:
Clinical Data Managers and Clinical Audit Researchers
Research & Development Practitioners, Nurses and Officers
Programme & Project Managers and Commercial Operation Managers
Clinical Studies Officers and Research Site Co-ordinators
Information Governance Managers and Data & Information Managers
Directors of Pharmaceutical Liaison, Psychological Services and Biomedical Research
IG for Clinical Research Databases and Trials was held online three times across 2021. It was described by attendees as:
"This is the first online course I've done since the very start of the pandemic and I'm impressed at how smoothly it ran and how professional the delivery was"

Lewisham and Greenwich NHS Trust
"The day was incredibly informative and worth attending. Having a greater depth of knowledge of the wealth of legislation associated with IG (beyond the basics we are all used to via mandatory training etc.) is definitely relevant to my role and actually the course has served as a prompt to vet the research documents to a greater extent"

CRN East Midlands
"Amy and Joe are expert presenters who provided an in-depth and comprehensive coverage of a complex subject. The presentations were very clearly communicated. Plenty of opportunity to ask questions"

LCRN East Midlands Core Team | NIHR Clinical Research Network (CRN)
"Excellent overview, good interactive and Q&A sessions"

Torbay and South Devon NHS Foundation Trust
"Thank you for finding people that really know their stuff"

Pennine Care NHS Foundation Trust
An online forum like no other…
Branding, marketing and education opportunities include...
Sponsor this forum and be part of a quality interactive event...
But don't take our word for it. We have had some excellent feedback from attendees to the forums that have been held to date:
"Forum was managed extremely well, and very professional"

IAPT National Networking Online Forum 2021 - 21st January 2021
"I am sure like everyone else I was apprehensive with going online, not sure how we could network, the ability for all participant's to participate and the quality of the presentations - all my fears were diminished this turned in to be a great day, networking, leading and sharing still occurred and links still formed. The presentations were excellent and the quality of the forum and set up great and so easy to follow and timing excellent."

Reduce Paediatric Emergency Attendance Online Conference – 8th October 2020
"The conference has been far more engaging than in a conference centre. This I think is because of the ability to participate in chat throughout and the use of the breakout discussions." "Excellent day! Organisation was great - loved the break out rooms for chat. Virtual chat added another really useful way to interact during the day, which isn't available to us at the physical conferences."

Leading Change in Clinical Coding Online Conference - 11th September 2020
"Very informative, lots of opportunity for discussions and very well organised virtually"

Providing Support for Children on Long Term Ventilation - Tuesday 9th March 2021
"I enjoyed the group chats networking listening to others experiences, I also like that there was a lead on each group so the chats were influenced and no awkward silences that can occur on web meets. I thought the larger talks were really good and easy to listen to."

Modernising Outpatient Services Online Conference – 16th September 2020
"This is my first experience of an online conference and thoroughly enjoyed it. Wasn't sure what to expect. Would recommend to colleagues to attend future events" "This has to be the best online conference I have been to, I really enjoyed the breakout rooms."

Advancing Ulcer Care Management Online Forum – 29th September 2020